2021-2022 Aportfolio Excellence in Teaching
Dr. Peaches Hash
Department: Rhetoric & Composition
Aportfolios for Arts Based Rhetoric and Composition Courses
I have been using APortfolios since I began working in the English Department in 2017. Originally, I viewed them as a way for students to put their work in a place I would have access to; however, as my pedagogy developed, so has my perception of APortfolios. I teach arts-based RC courses, and the APortfolios have become a place where students can showcase their multimodal art pieces and writing in digital galleries, where audience members can experience their processes of writing, the art they have created, and new reflective pieces students write to tie their experiences in the course together.
APortfolio is an ideal platform for my students' work because there is a level of control students have over what they share. Although the writing conducted in RC courses is considered "public writing," meaning others may have access to it, many other digital portfolios and webpages require students to put their work there for public access outside of the course. Students in my courses may write personal, vulnerable pieces that they may not want on public virtual spaces for any lengths of time. APortfolio's privacy features allows students to create culminations of their experiences for their classmates and instructor only, which supports them in creating portfolios that are expressive and personal, while still private on some level.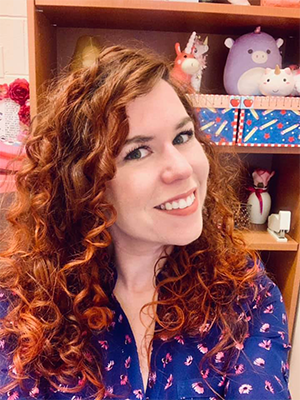 The APortfolios also build a great deal of excitement in my courses. We spend several class periods discussing design choices, themes, and visual rhetorics so students will make informed, purposeful decisions when designing their portfolios. I also add assignments for the APortfolio that offer opportunities to reflect on paper assignments and the art aspects of the course. By the end of the semester, students have completed a great deal of products and put forth significant effort, so giving them opportunities to reflect and express themselves thoroughly engages them in the process-driven format of the course.
Assessment and Aportfolio
While APortfolios can be used in professional capacities, the portfolios in my courses are more experimental and creative. I use the APortfolio as a final assessment of students' creative risk-taking. I participated in a workshop led by Susan Colby and Tina Hogan in 2020 on curriculum re-designing. Some of the presentation focused on enhancing curriculum by requiring students to take creative risks. Colby and Hogan explained that creative risk-taking is an imperative skill for 21st century success, yet many courses do not provide ways for students to experiment and take creative risks. Ronald A. Beghetto states in Beautiful Risks: Having the Courage to Teach and Learn Creatively that students typically will not take creative risks unless required out of fear of failure or the unknown. My arts-based RC courses require continuous creative risks over the semester; therefore, it is only natural to include creative risk-taking as an expectation in their APortfolios. I assess this by including language of creative risk-taking in the assessment rubric. Students include reflections that may take the form of poems, dialogues, or other creative writing products. They also are invited to include any art they have created for the semester, adding a gallery-style element. Instead of just finding pictures from the internet, students use and manipulate their own images to enhance their digital portfolios.